Trout Fishing in America's Musical Wins Award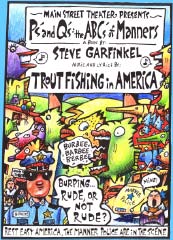 P's and Q's: The ABCs of Manners was selected as Best Original Musical by The Houston Press! Congratulations everyone!
Trout Fishing in America has written the music for Steve Garfinkel's play, P's and Q's: the ABC's of Manners and the world premier is at the Main Street Theater in Houston, Texas. July 5th will be a preview and July 8th is Target Family Night when Keith and Ezra will be in the audience. There will be a talk back and autograph signing with them after the show that night. The official opening is July 9th and the play will run through August 9th.
"This project is exciting and different for us because we won't be playing the music or singing the songs. That will be done by the actors and a four-piece band", Keith said.
For more information go to Main Street Theater's site.