Award winning duo Trout Fishing in America (Keith Grimwood and Ezra Idlet) were nominated for a 2007 Grammy Award for "Best Musical Album For Children" (their third nomination) for My Best Day (Trout Records). My Best Day was recorded live before an audience sponsored by the Arkansas Educational Television Network. The 15 songs cover a range of topics and themes, from odes to friends whom we love despite the fact they talk to much, to alien nose invasions and snowflakes named Bob. The Grammy Awards were broadcast on February 11, 2007 at the Staples Center in Los Angeles and broadcast on CBS-TV. Keith and Ezra attended the event.
Ezra meets NBA star Bill Walton at the Nominees party. Bill was there celebrating with the Grateful Dead as they received a life time acheivement award.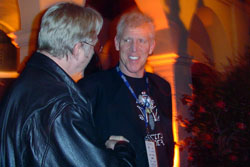 Beth, Keiths wife, meets Grammy nominee Weird Al Yankovic at the party.