Reviews of Big Round World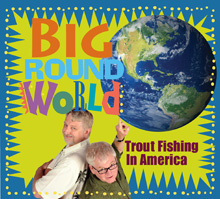 PARENTS' CHOICE
Ezra Idlet and Keith Grimwood, the duo known as Trout Fishing in America, are the real deal: solid rock 'n roll and jazz pros who fuel their comic and soulful songs with powerhouse vocal and instrumental stylings (complemented here by musicians Luther Gray, Fred Bogert, David Renko and others). Cautionary messages, with Trout's trademark tongue-in-cheek delivery, include 'Too Good to Be True' — a bebop-cool track involving a found bag of money — and 'Always Chew Your Food' ('It would be so rude if you died choking on your food/You'll never be invited back again.') Idlet and Grimwood are equally deft with thoughtful approaches to themes of unity and diversity (the title track and 'Martin Luther King and Rosa Parks'). The songs' direct appeal to children comes from first-hand experience: according to the album's liner notes, many of the tracks were inspired by the duo's workshops in elementary schools.
Lynne Heffley ©2008 Parents' Choice
Soulful, relatable songs for school-aged kids.
Common Sense Review
Reviewed By: Kathi Kamen Goldmark
Ezra Idlet and Keith Grimwood — aka Trout Fishing in America — deliver 14 original songs about both everyday life concerns (a hole in your favorite jeans, nasty alarm clocks, the importance of good manners, the history and horrors of spinach) and big, important concepts (Rosa Parks and Martin Luther King, Jr.'s contributions to the world, embracing individuality and personal differences). There's also a fantastical romp with a tiger and a monkey, life lessons learned while training a puppy, and a cautionary rockabilly tale about rumors and gossip.
All of the songs are performed with taste, integrity, and humor in the duo's signature soulful style. Idlet and Grimwood dusky, comfortable voices and bluesy instrumental accompaniment are easy to hear and understand without ever talking down — musically or lyrically — to children of any age. As a result, BIG ROUND WORLD is one of those albums that parents might find themselves listening to even when there are no kids in the car.
For more terrific, funny music written solidly from a kid's point of view, check out TFIA's own My Best Day.
Common Sense Note
Parents need to know that the 14 songs on this CD address a wide variety of topics of interest to younger school-aged kids. Real-life moments both large and small — from Rosa Parks' bus ride to ripping a hole in your favorite jeans — are fair game in these clever, well-performed songs.
Families can talk about the topics raised in the song 'Martin Luther King and Rosa Parks.' Kids: What do you know about these two heroes of the Civil Rights movement? How could you find out more? How do you think the world would be different if they hadn't done what they did? What can you do to make the world a better place for everyone?