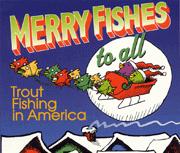 Merry Fishes to All received a Grammy nomination for 'Best Musical Album for Children'.  Family Fun magazine called it 'the Year's Best Christmas CD,' saying that the songs are 'so fresh they practically wiggle.' Ben Fong-Torres wrote in Parade magazine about its 'comic sugarplums such as 'I Got a Cheese Log." Child and Chicago Parent magazines chose Merry Fishes as one of the best holiday CDs this year, and it also won a Parents' Choice award. Songs from the album were also featured in a National Public Radio program called 'NPR presents: A Holiday Folk Music Tour with Judy Collins.'
This was the second of four Grammy nominations for Trout Fishing in America, also known as guitarist Ezra Idlet and bassist Keith Grimwood.
We're offering printable pdf files of lyrics for Merry Fishes so your family can gather round the piano and sing these new holiday songs or take them caroling. Click the titles below for individual song lyrics.
Chocolate Christmas
My First Christmas
Snow is Falling
Santa Brought Me Clothes
Snow Day
Just Because, Mrs Claus
I Got a Cheese Log
Bob and Bob
You Gotta Get Up
My Birthday Comes on Christmas
The Christmas Letter
Credits
Produced by Fred Bogert/Briarpatch Audio Productions, Inc., Hendersonville, TN
"Snow Day" by Henry L Hipkins
"You Gotta Get Up" by Rich Mullins
"My Birthday Comes On Christmas" by Louis Bush and Leon Pober
Released in 2004

Awards
47th Annual Grammy Nominee
A 2005 Gold National Parenting Publications Award Winner
Winner of a 2004 Parent's Choice Approved Award