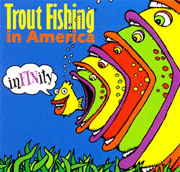 InFINity is another Grammy nominated album from Trout Fishing in America.
Here's what Chicago Parent said about InFINity:
"Musicians with the magic touch" Fred Koch
The children's musicians I feature this month understand that their art, livelihood and ultimate success depends first and foremost on the strength of their songs. If they don't have that inherent magic, no amount of dressing up will enable them to compete.

One of the more cutting-edge performers out there for kids and families is the musical duo Trout Fishing In America. If you know their music, you know what I mean, and if you haven't heard them yet, it's time to do some trolling. Their fifth children's recording swims into stores in September, and is cleverly titled inFINity (Trout Records, 2001). This new release is bound to be a hit with existing fans and will reel in some new fans, too.

Trout Fishing In America is composed of Ezra Idlet and Keith Grimwood. Their press release claims they haven't forgotten what it's like to be kids. Sure enough, their exuberance comes on strong from the very first song, 'MyBest Day,' an upbeat and positive fantasy about a child's 'best day.' This song is exceptionally well-written. The words are meaningful without being trite or syrupy, and the music–a hybrid of Caribbean and South African styles–is uplifting, wonderfully capturing the mood of the lyrics. When I looked at the songwriting credit, I discovered that 'My Best Day' was derived from a songwriting workshop with kids in Olathe, Kansas. Cool!

'Are We There Yet?' describes a fun new game to play to pass time in the car. 'Everything on your side of the car belongs to you/ Everything on my side of the car belongs to me.' Set to a rhythmic, rollin'-down-the-road groove, the song is about good kids having good old-fashioned fun, and it promotes an interdependent spirit. 'Looks like you got a new car dealership/Come see me at my gas station before you take a trip/There's money in your bank/But you'll starve without my farm.'

Another of my favorites is 'You Can't Go,' about a kid who couldn't go out with his pals because he didn't do his chores at home. TFIA's trademark humor can be found in 'Everything That's Made Of Wood,' a little jazz number that reminds us about all the things that come from trees. Other standouts include 'Happy That You're Here,' 'Dinosaur In Your Bathtub,' 'Sailing,' and an updated, challenging 'Simon Says.'

Idlet and Grimwood are gifted musician/performers who successfully cross over from adult to children's music because they insist on starting with a great song. They are uncompromising when it comes to their musical treatments, too. So if you've got kids in the 7 and up group and you're looking for some great music to enjoy with them, give inFINity (or another TFIA title) a listen.
Portland Parent liked the album, too:
"inFINity and Beyond!" John Wood

There are only a few children's artists who can compel an adult of sound mind and body to pop in the group's CD of his or her own free will–Trout Fishing is one of those, and with this recording the musicians have created a parent's guilty pleasure.

The opening tune, 'My Best Day,' is an exercise in sky's-the-limit positive thinking. Want your own rollercoaster? Listen to 'They'll be six flags flying over my back yard.' Imagination is the remedy for those long cartrips in 'Are We There Yet?' and some poor soul suffers the consequences of not doing homework and chores, in 'You Can't Go.' We've all played the 'Your Name Backwards' game (I still do) and thank goodness–or badness–for 'Junk Food Jump,' a non-health food song (with a great Shaft riff) that'll add five pounds as you listen and affirms that 'too much healthy food can make you mean.' My hat is off to anybody who can take 'Simon Says' and make the old warhorse fresh, fun and alive. And a testimony to how important it is to share music with little ones comes from the closing song, 'Say Something Sweet,' a ditty Grimwood's dad made up and used to sing to him when he was a baby.

There's a lot of ear candy to go around; catchy arrangements, clever lyrics and not a whiff of condescension to be found. Parents will enjoy inFINity as much as the kids, so pick up a couple of copies.
Songs
My Best Day
Are We There Yet?
Everything That's Made of Wood
You Can't Go
Your Name Backwards
Junk Food Jump
Sailing
It Did It All By Itself
Happy That You're Here
Dinosaur in Your Bathtub
Simon Says
It's Better Than That
Something Sweet
Credits
Produced by Fred Bogert/Briarpatch Audio Productions, Inc., Hendersonville, TN
Recorded at Historic Studio B, Nashville, TN and Briarpatch Audio Productions, Inc.
"Everything That's Made of Wood" is by Walter Bishop (ASCAP)
"Dinosaur In Your Bathtub" is by Vance Gilbert Disismye Music (ASCAP)
"It's Better Than That "is by Lou and Peter Berryman Music (BMI)
Released in 2001
Awards
44th Annual Grammy Nominee
A 2002 American Library Association (ALA) Notable Children's Recording
Winner of a 2001 Parent's Choice Gold Award
A 2001 Gold National Parenting Publications Award Winner