With the distance we've traveled to gigs in the last forty years, we could have made two round trips to the moon, driven to El Paso and back, and still have miles to go before we match our actual travel. If you ask us if we still like the road, the answer is yes! All of that road work has taken a toll on Keith's hip and he just got a new one! It should be good for at least another million miles. We'll be taking the month of December off so he can recover and get ready for the next million miles.
Our first gig back from this time off will be at the Epic Theater in Grand Prairie TX. "Epic" is perhaps the only way to describe this community facility. It includes a giant indoor water park, gym facilities, classrooms, art studios and a state of the art recording studio with a world class performance space connected to it. We'll be doing two free shows (2pm and 7pm) at the Epic Theater on January 19th. Both of these shows will be recorded for a live album. If you don't live in the Grand Prairie area, think road trip! It'll be worth your while.  Click here to get your free tickets!
All in all, it's been a really good year for us. Our latest limited edition project, The Dusty Dozen,  is selling briskly. Get it before it's gone! The new Trout House studio is built and we're busily working on our retrospective album that will represent 40 years of Trout. We hope you all have a happy holiday season. Thanks for taking the time to read our newsletters.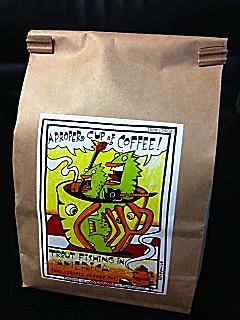 Oh! On your way out of this newsletter, check out our seasonal "Proper Cup Of Coffee" coffee and our year end sale.
Take 15% off of all Trout shirts, CDs, our "My Best Day" DVD, and Chicken Joe books by using the promo code TFIA15 at checkout.
We offer free first class shipping in the US.
Click here to start shopping!